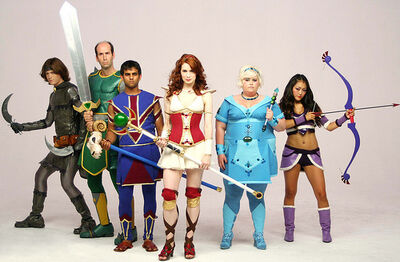 Welcome to The Guild Wiki!
The Guild is a web series about a group of gamers trying to interact with the normal world.
The story follows a girl named Cyd Sherman, a jobless, gaming addicted, former child prodigy who was "dumped" by her psychologist because she could not overcome her gaming addiction. Just as Cyd gives up hope of ever finding real friends and having a normal life, a boy arrives at her door. This boy introduces himself as "Zaboo," one of Cyd's online friends. After proclaiming his love for her and moving in unannounced, Cyd gets the guild to meet together in person to discuss the Zaboo issue. When they meet up, Cyd discovers that the guild is not able to talk about normal things, and can only interact when they're talking about the game. When no one can consentrate on the Zaboo issue, Zaboo ends up continuing to live with Cyd and game with her and the other guildies on a daily basis.
Although Cyd is content with her gaming addiction, she still wants to branch out and have a social life. Thus, with the help of her guildies, she explores the world of parties, boyfriends, and friendship.
Main Characters
Edit
Latest activity
Edit